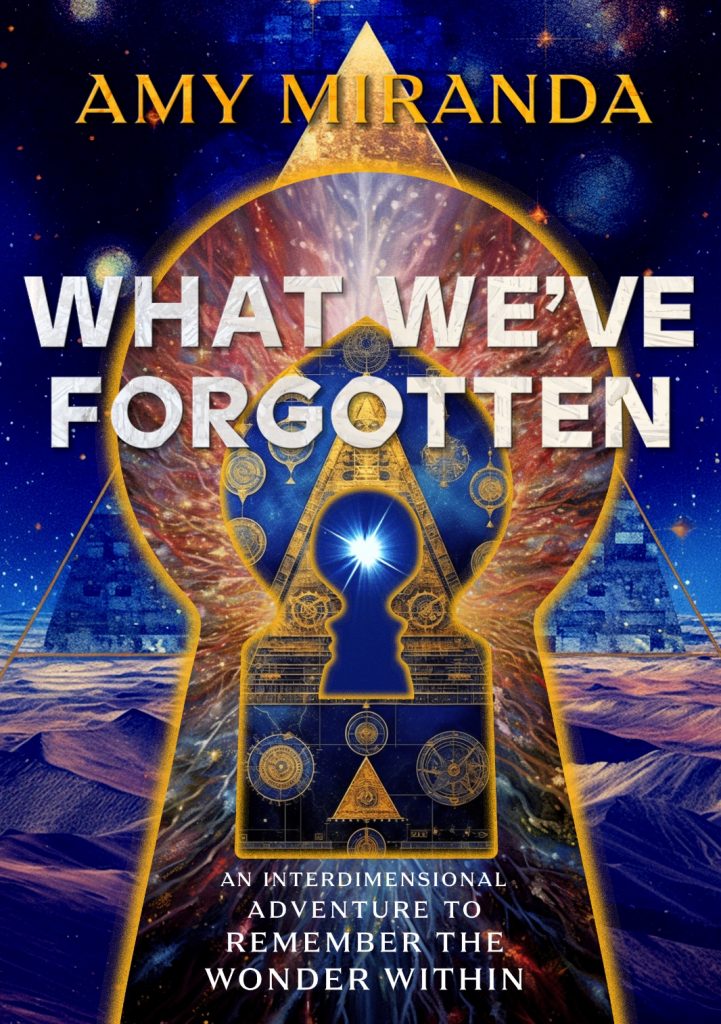 What We've Forgotten is an ancient text for modern times that promises to undermine systems of oppression through the power of wonder and magic available to us all. Meeting at the intersection of social justice, technology, and witchery, it's magic book for the tech world that takes readers on an active quest through the cosmos of consciousness.
What began as a retreat is now a forthcoming (12/12/23) book containing 63 full colour original artworks in collaboration with Amy and Thunderwing Studio(published by Rise & distributed by Simon & Schuster. Available for preorder in the USA & CANADA . The 69 card oracle deck will release 2/13/23.
Shining new light on the old ways, What We've Forgotten is a like playing Legend of Zelda in a book. Each chapter is its own room. Amy Miranda leads readers through a Temple of Wonder bringing them through portals in the universe that most of us don't even realize we have access to. What We've Forgotten reminds us of the adventure, rites, and ritual of journey work
Amy Miranda is not your usual witch – unless your witch quotes Public Enemy while communing with ascended masters, all while connecting thousands of clients and followers with guides, forces, and powers from the other side of the veil. Amy always knew she was a magician – just not the kind that pulled rabbits out of hats, rather the kind that invited people down the rabbit hole. In What We've Forgotten, that invite is extended to all, creating a literary VR-experience where readers will journey through the temple of their consciousness, helping them to understand how magic is nothing more than the chemicals we are made of and the ether in which we all exist, now, before, and beyond.

Through this experience, readers will not only have the opportunity to engage with their own cosmic consciousness, but begin to see that our world can achieve collective liberation not only through the disengagement with systems of oppression, but thrugh the re-engagement of wonder, that lives within us all.

EARLY PRAISE FOR WHAT WE'VE FORGOTTEN:
---

" In her brilliant book "What We've Forgotten", Amy Miranda invites you to join her into a temple of remembering. The book takes us back into the adventure and ceremonies that hold the promise of how we can bring in magic and the goodness of life. What a beautiful way to work.

Amy Miranda will inspire you to engage in spiritual practices so you can see the illusion we have been living in and with the assistance of spiritual practices we achieve collective liberation, a deep connection with nature, and a renewed love for life. What We've Forgotten will change readers' lives and is such an important book for the times we live in as we learn how to heal ourselves, enliven our connection with Nature, and connect with Source. This book is like a guided tour leading readers to their deepest wonders and hidden treasures. And it is also beautifully written.

Amy's challenging beginnings ended up polishing her soul and spirit so she could be a leader for these times. ".

– Sandra Ingerman, MA, Counseling Psychology international shamanic teacher and an award winning author of 12 books including "Medicine for the Earth" and "The Book of Ceremony"
---
"Amy Miranda is relentless in her revealing of the power of art, written word and fact ..freeing people from the chains of The Uninvited. This book connects us. "

– Chuck D, Public Enemy
---
" This is a book inspired by the journey through a life that is lived through art and music . This is a book that you all must read"

– Jumpin' Jack Frost , Jungle/Drum and Bass Pioneer, Co-Founder V Recordings
---
"What We've Forgotten is a deeply personal and—dare I say it—truly fun exploration of magic and mysticism. Amy's sparkling wit and down-to-earth explanations provide an optimistic, friendly, engaging DIY guide to working with the magical realities both outside and within each of us. "

– Michael M. Hughes, author of Magic for the Resistance: Rituals and Spells for Change.
---
"Through heartfelt personal anecdotes and connecting dots in her charming and self described "nerdy" way, Amy has penned a thought provoking book on connectivity."

– Kid Koala – Scratch DJ, music producer, theatre producer, film composer, multimedia-performer and visual artist.
---
"Reading Amy Miranda's book is like having a deep talk over tea on a rainy afternoon with a dear friend. Her wisdom and experience shine through on the page. An absolute must read."

– Heather Matarazzo, Actress, Writer, Human Being
---
"So many of us are looking for a guide to navigate these troubled times. The most powerful way forward just might be lessons from our past – rooted in nature, the archaic, and the feminine. What We've Forgotten is the guidebook we need to rediscover our personal and collective power and reclaim control of our destinies. It's brilliantly written and presented with a sense of magic and wonder as only Amy can deliver. An indispensable item for any sorcerer's bookshelf!"

-Tony Parisi, Metaverse pioneer, author and music artist
---
"We all, at some level, would like to believe that magic could exist. In this fascinating book, Amy Miranda shows us that it can and does, and takes the reader on a journey to connect with the magic we all hold within us, interwoven with her own and other stories. This is for anyone looking for a very different kind of guide to shine a whole new light on life."
– Cindy Gallop, Founder & CEO, MakeLoveNotPorn
---
"I've learned so much about everyday magic from Amy Miranda. "What We've Forgotten" is such a gift."

-Jessica Westhead, author of Worry and Avalanche
---
"A Wondrous gift. "What We've Forgotten" is meant to read time and time again with mystical bread crumbs and magnificent artwork illuminating the way. It is a profoundly magical treatise on the way of creating personal and social alchemy. More than a great read-it is the opportunity to experience your own awe inspiring journey of personal discovery; a discovery that transforms trauma into triumph"

– Arthur Lockhart, Order of Ontario, Founder Emeritus, The Gatehouse, Founder Gatehouse Poetry Movement & Survivors Council Canada,
---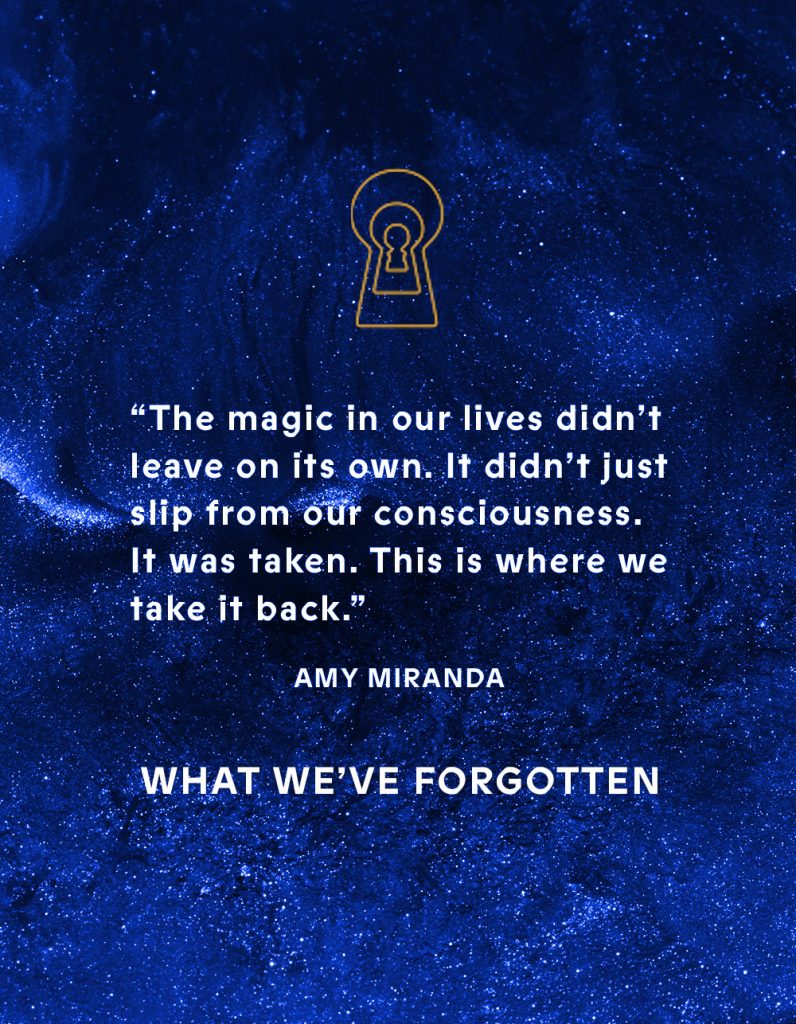 #whatweveforgotten