A visit through the ether from Chris Cornell.
I'll write more about this interdimensional scavenger hunt and some of the magic it's brought soon, but for now, a small tidbit of the kind of magic that's been at work in the last 5 or 6 months. As you probably already know, I'm someone who has as my best friend said today: "fought SO many wars and won". I have survived things most people don't survive in one lifetime. That's just the background. Because I've had losses too, I know what it's like to drudge through the dirt, slosh through the pain. I survived my father. I survived a car accident that I shouldn't have walked away from, I survived losing my best friend on the planet, 2 days before my 19th birthday. I have walked the road of unhealed trauma that results in addiction, destruction, and pain. I have also risen from my own ashes and picked up the lost parts of me and stood in the face of evil. Not just stood but gone back in for the others. At the core I am an artist. I was born into Art. It is what has saved my life, over and over again.
I am 44 years old. I grew up in a time of grunge and total musical magic. I went to Lollapalooza, I crowd surfed. I was there. I also got pummeled by those losses. The idols gone too soon. Those literally channeling divine light, some that breathed life into me when I could barely stand. I sang, I painted, I wrote plays, I ended up losing my voice for a long time after my best friend Erin died. I stopped creating for myself, I fell back into addiction to work, to drinking, to all the things that made me feel safe. I did everything but deal with my trauma. Everything but look inward. Instead I thought I was too broken to be fixed, I stop creating for myself and I stopped writing. Writing was my constant and when I stopped the heavy baggage I had been carrying around was no longer allowing any movement. I was stuck. I'd become a successful Executive Producer, entrepreneur but there was nothing left to propel me forward.

The thing that I didn't mention yet is that I was one of those kids who always had imaginary friends, I always loved magic. I always felt things and saw things and then my best friend died. Something changed, I realized although she was gone. Although she was torn away from life too soon, in a car accident, only months after I almost died in one I realized that the things I'd felt since I was a kid. Probably the things that helped keep me alive, and helped me win the metaphorical wars I mentioned earlier, is that I had gifts. Although she was gone from Earth, I could feel her. See her. Hear her. I felt like I was losing my mind. I was sober, but I was hearing her. She was telling me to write.
I ended up turning to a medium then, I was a kid. I didn't know what was happening. My Mum, my Grandmother, they knew. The medium repeated to me some of the things I'd been hearing Erin say including to write, "but what?" I asked.
She told me I was going to write a book that was going to help change the way people think. I was 19. I was recently sober, the only positive side effect of almost dying in a car accident was that I stopped treating my body like a garbage can (for a minute). So I couldn't really imagine what I was going to write about. I'd always been into magic, and loved witches. I'd recently discovered Taoism, I'd gotten into thinking about the big questions, but I felt like everyone was doing that. It's part of growing up. The medium also told me about my gifts. She saw things I'd seen, she explained a bit about how it worked. So I kept talking to Erin. It never really occurred to me I could hear anyone else.
As I finally came to a screeching half of trauma in my thirties I finally named some of the wars I'd been fighting (you can read about that in another post.) When this happened I was called to practice, meaning I got one of those bolts through the blue that made it crystal clear that I was not meant to continue focusing on production, but instead it was time to work with survivors like me, that it was time to write. That it was time to share the stuff that helped me stay alive. So that's what i've been doing the last 5 years, I've been trying to decipher how to explain how I survived, thrived and really turned poison into power. Realizing this is the book. Over the last 6 years in my healing practice working with survivors I've learned how to use my own stories as medicine, how to listen to my best friend and those who have since joined her through the veil to help me hear for others, to help me teach how to do that. It was coming together. The book was about What We've Forgotten.
Well the last 2 years as you know – have been ooof. I teach (remind people) how to follow life's breadcrumbs. To find the magic, the wonder. Well this time it found me. I'll tell more about this story, but for now this is just one of the dozens of things that have happened in the last 6 months. Not just happened but been seen, witnessed, experienced by people around me. This dude is loud. Of course he is.
A man known as " the voice " would be loud. Someone who would show up as I near my publication date, and work magic on this book. The man who literally never took a break from writing, and co-creating with literal divinity. Of course he showed up. When I was a kid I talked to Elvis. I went to Graceland when I was 10. A weird thing for a Canadian kid to want to do, but I wanted to feel if what I felt was the same at his house. I knew enough then about how it worked that when you were around people's things you could feel their energy. It was why I loved being with my grandmother and my Nana. I loved how it felt when I would bring pieces home with me from their houses. It was like they were there. You know what I mean, you don't have to be Woo-woo (it's you-you btw) to know this feeling.
So back to Cornell, as I call him. We've become buds. When I was younger I missed the whole boat. I was deep into Nirvana and Pearl Jam. I cringingly recorded a version of "Alive" at Canada's Wonderland. I liked Soundgarden okay. Mostly Jesus Christ Pose, Birth Ritual, and I liked Cornell okay, Seasons was it for me, and a little TOTD, Hunger Strike. I wish I'd known more about Cornell when he was still here but as I know with the work I do, timing is never to be questioned.

So what do you do when an ascended Rock God comes to you in a dream. Well, I ignored it at first. At this point I'm used to "visits". It's like there's a "hot mic" on the other side and they know I can "hear" them. So it's loud a lot for me. This time though, it was not a reading, or a session, or an event I was at where I could feel people. It was literally in my sleep. He'd been trying to cut through for a bit before that but again, I'll write more about that later. This is about how I kept asking him to make it clear for me, and he made it clear for me but I think for a lot of other people who maybe need to know he's still creating. Just in new ways, with new instruments.
I'd been leaning into having some help with the writing anyway, it's a big book. I've lead retreats on it, it's literal magic. So having a poet like Cornell as an interdimensional advisor was great. Especially because, magic. Don't worry the catalogue he left behind is providing the soundtrack too, I've gone deep into the vaults and crates and gotten to know the person I seem to have just missed during our time here. He left the planet on the same day as my grandmother. Breadcrumbs. There's literal hundreds. This is what I teach in the book, and retreats, how to follow them to your purpose so of course up walks who seems to be a master of magic. This energy I started just referring to as Cornell. My last name is Miranda and oftentimes people call me this assuming it's my first name. It always makes me feel like I'm in gym class. As a result I tend to call people by their last names, or full names. There were also two Amys growing up at my school. So I was used to Miranda being a monicker. It's happens it's also attached to one of the wars I've won. My own father told me to change my name because of the things he did to me. I have many friends who have changed their last names from their father's. I always wanted to, and then when he told me to after I finally went to the police for the crimes he committed against me, it became an act of defiance to keep it. He threatened my life, my name, and I had held strong that I would be the last of the line and that it will die with me. I am the last of the line.
Back to Cornell, through many breadcrumbs I was nudged to get on the Soundgarden subreddit. I did. About 4 days later a friend who has witnessed most of the magic of this experience first hand sent me a post from the Soundgarden subreddit. It was this. I almost fell off of my chair. It like a big wave hello through the ether. WTF. I sent it to a few people who have been witness to the last 6 months. They said the same.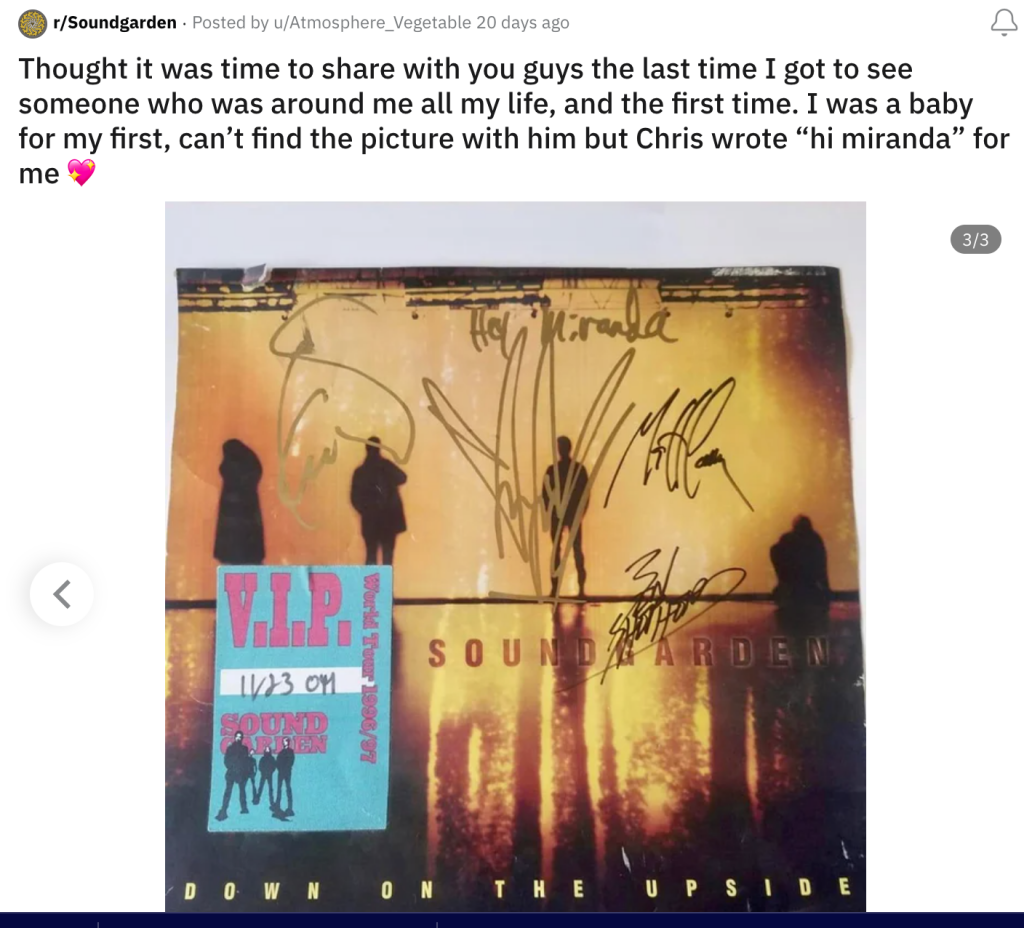 You can't make this shit up. "Hey Miranda", "Hey Cornell". What a perfect reclamation of my name in my new pal's handwriting. I realized I was going to get a tattoo of it right away. "Miranda". Thanks Cornell.
I contacted an artist that felt right. I was also planning to get a snake, an Ouroboros. I trained in snake medicine. Snakes, of course. Cornell.
When I took the writing into photoshop to close crop it, I realized it was pretty blurry. So as one does on reddit, I decided to message the redditor to ask if there was a possibility of a scan. I told her a bit about myself and how much his music had been impacting my writing, and that I was looking to get a tattoo.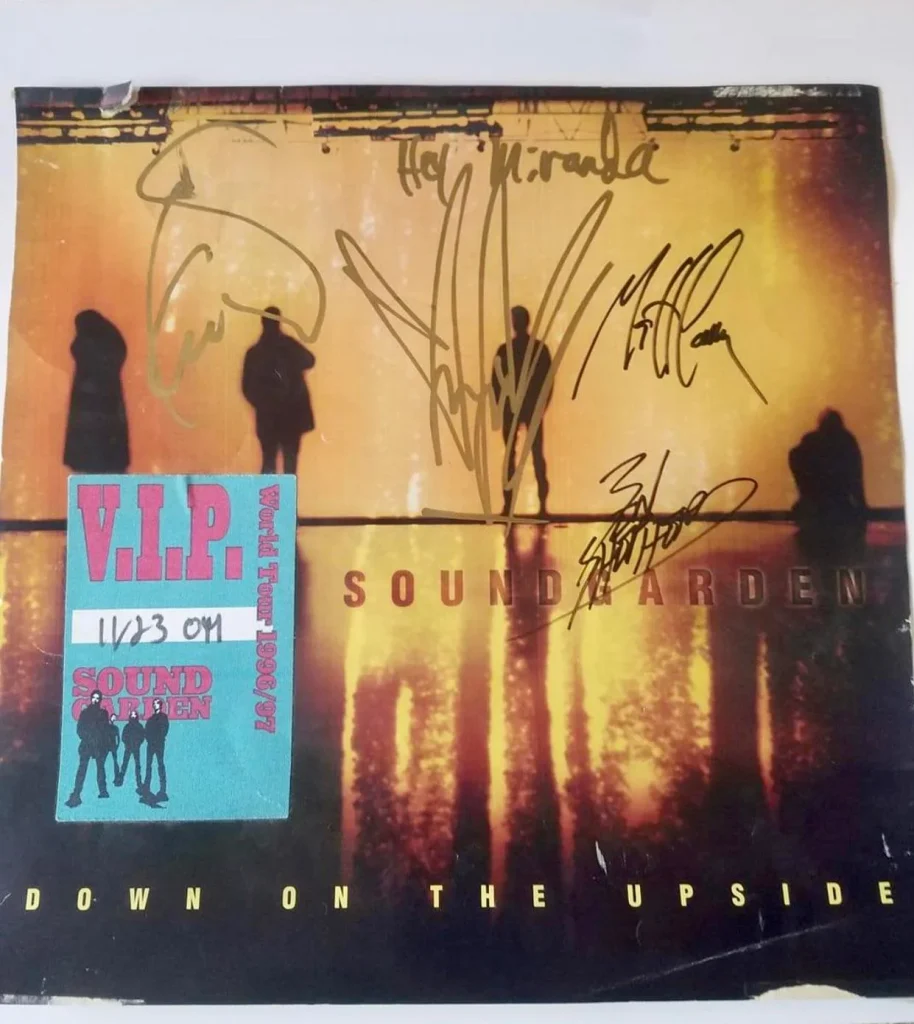 She answered me. She couldn't believe it as she shared with me part of the story that makes this so much more incredible. The spelling of her name isn't Miranda. The writing of my name with the I in Miranda, for her was a typo. A typo from 1996. Just before my best friend left the planet, the same year I almost did, it was like a seed was planted. Magical. So here I've been asking him to show me it's him, and he's like "Hey Miranda!". I always say time is an illusion but this was something else, and the timing of the reddit share being so close to so much. Astounding. Spectacular. But Total Fucking Godhead? Right?
When I messaged the tattoo artist, Starr about the scan, she told me she didn't need it. Of course. It wasn't about the scan, it was about the magic. The literal odds. Yesterday I got the piece tattooed, the synchronicity was amazing, Cornell all over the place. I shared the inked piece with the amazing woman who put it on reddit in the first place. She responded right away. It made us both emotional . She was so glad I saw her post. I felt like I'd not just been glad to see it but had the insurance of having it sent to me, and having it come up on my newly minted subreddit feed. Cornell is clearly still all about the details.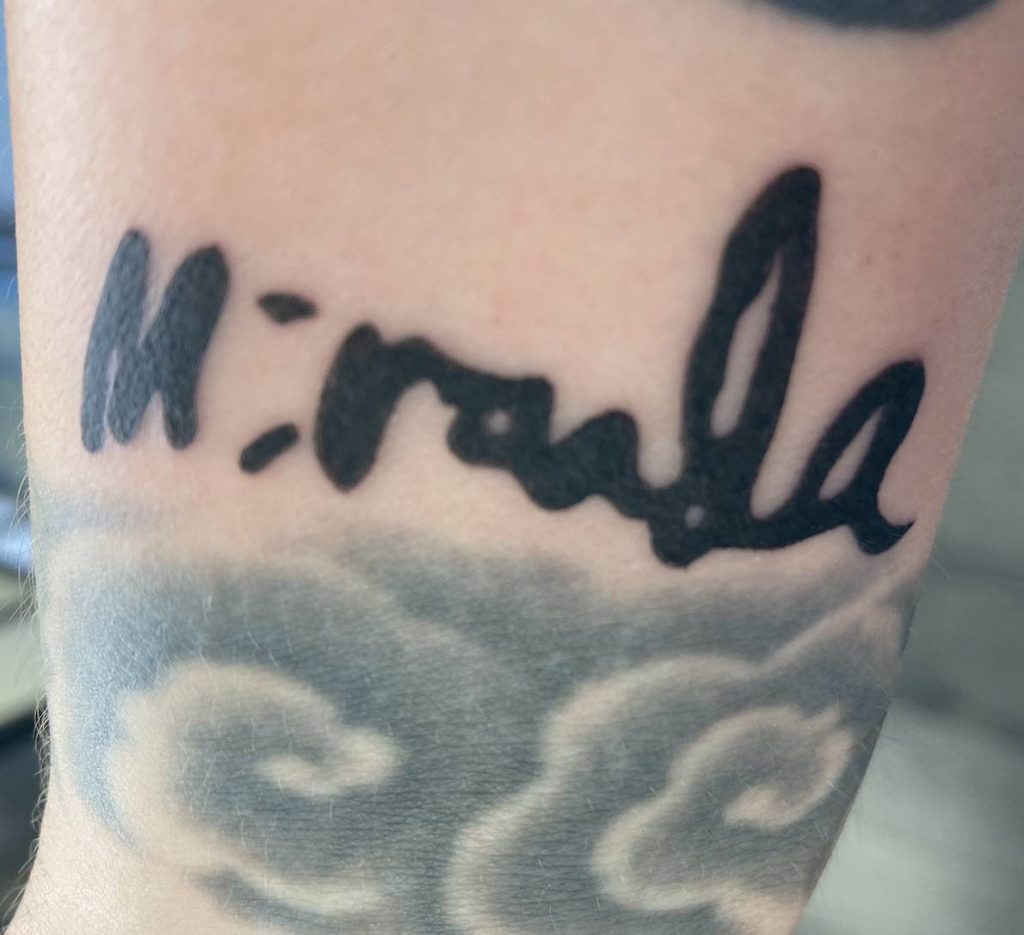 Today I felt a nudge this may be a story we should tell. So I went to send a message to my new redditor friend who "thought it was time to share" this special autograph. I was also sending along a link to another thing we have in common, a love for animals. And when I opened my messages she had said the very same.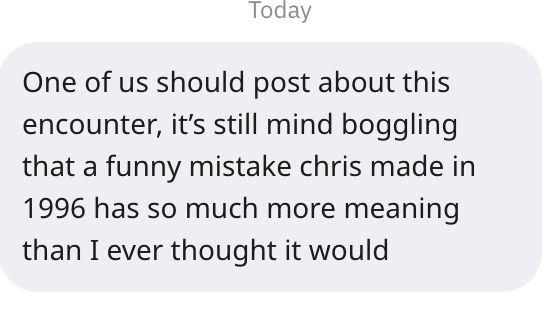 So we're sharing. Sometimes meaning comes in between the moments we least expect.
Thanks for the ongoing magic of your creativity, Cornell.
Thanks to divine timing and the real magic that he teaches us all through his being. Real connection. One so deep it's helped keep so many of us on the planet when we felt we couldn't hang on. He's still got our backs.
From the Mi(a)randas